ultrasonic n95 mask machine ( wholesale)
| | |
| --- | --- |
| Payment Type: | L/C,T/T,D/P,Western Union |
| Terms of Trade: | FOB,CFR,CIF,EXW |
| Delivery Time: | 15-30 Days |

| | |
| --- | --- |
| Packaging: | Wooden case |
| Brand: | Huitong |
| Transportation: | Ocean,Land |
| Place of Origin: | China |
| Port: | Shenzhen,Guangzhou,Shanghai |
Product Description
全自动折叠口罩一体机技术参数:
Technical parameters of automatic folding mask integrated machine: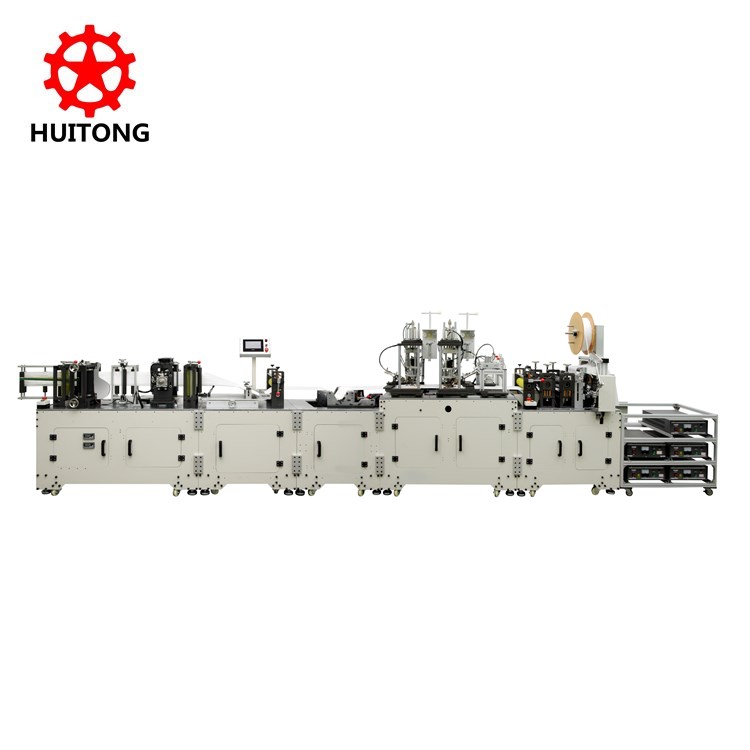 设备简要概述:全自动折叠口罩一体机是用于折叠口罩生产线的全自动机器,使用超声波技术,将 3-6层PP 无纺布、活性炭以及过滤材料熔接,无纺布熔接,耳带熔接,印刷,对折,封边,滚切的一体化全自动折叠口罩生产线,可加工3M9001、9002等其他折叠口罩。根据所使用的原材料不同,所生产的口罩可以达到FFP1、FFP2、N95等不同标准,全程无需人工操作,全部由机械化生产,生产出来即是成品。
The fully automatic folding mask machine is a fully automatic machine for folding mask production line. It uses ultrasonic technology to weld 3-6 layers of PP non woven fabric, activated carbon and filter materials, non-woven fabric welding, ear band welding, printing, folding Edge banding and rolling cutting integrated automatic folding mask production line, can process 3M9001, 9002 and other folding masks. Depending on the raw materials used, the masks produced can meet different standards such as FFP1, FFP2, N95, etc. No manual operation is required during the whole process. All are produced by mechanization, and the finished products are produced.
产品配置及特点:
1. 本机自动化程度高,无需进行人工操作
2. 通过PLC 编程控制,可做到口罩压纹、耳带熔接,对折、切边、鼻梁条内置,一次成型。
3. 特殊的制作工艺纹路清晰,在生产时不变形,可最大限度的减少材料浪费,而且有效的保证了生产成品的质量。
4.采用PLC 控制系统,气动元件选用国际品牌。
Product configuration and features:
1. The machine is highly automated and no manual operation is required
2. Through PLC programming control, it can achieve mask embossing, ear strap welding, half-folding, trimming, built-in nose bridge, and one-time molding.
3. The special production process has clear lines and is not deformed during production, which can minimize the waste of materials and effectively guarantee the quality of the finished products.
4. PLC control system is adopted, and pneumatic components are selected from international brands.
工作流程:
鼻梁条送料→超声波熔接→耳带熔接→无纺布对折→超声波熔接→切料→输送带装置送出成品口罩
work process:
Nose bridge feeding → ultrasonic welding → ear belt welding → non-woven fabric folding → ultrasonic welding → cutting material → Conveyor Belt device to send out the finished mask
1.设备基本技术参数与安装配置需求:
Item

DJ-KCX37H

生产效率 Productivity

60PCS/MIN

成品尺寸规格(成人款)

Adult Size

145*105mm

驱动方式Drive method

伺服马达 步进马达 Servo motor

控制面板 control panel

人机界面(触摸屏)及按钮 Human-machine interface (touch screen) and buttons

电源功率 Power supply

Power supply:220V 50/60HZ Power:7.5KW

超声波频率 Ultrasonic frequency

15/20KHz

气压 Air pressure

0.6Mpa

压缩空气Compressed air

0.5~0.7MPa 使用流量约500L/Min Use flow rate

使用环境

Use environment

温度10~35℃,湿度5-35%HR ,无可燃性、腐蚀性气体,无粉尘(洁净度不低于10万级)Temperature 10 ~ 35 ℃, humidity 5-35% HR, no flammable, corrosive gas, no dust (cleanness not less than 100,000)

设备尺寸Equipment size

L11500 * W1900*H1300mm(包含输送架、料架 Including conveyor rack and material rack)

设备重量 weight

2500KG
outer diameter of coil material (mm) inner diameter of cartridge (mm) weight
2.设备适应的来料规格:material specification suitable for the equipment:
类别 Type

挂轴数量hanging shaft quantity

宽度(mm)

width (mm)

卷料外径(mm)

Outer diameter of coil material (mm)

料筒内径(mm)

Inner size

重量

weight

布料Fabric

4

260

Φ600

Φ76.2

鼻梁条

Nose clip

1

3-5

Φ400

耳带 ear-loop

5

——

——

——
3.包材规格尺寸:
| | | | |
| --- | --- | --- | --- |
| 材质 Material | 宽度规格(mm)width | 重量 weight | 其他 |
| 外层无纺布 Outer non-woven fabric | 260mm | 50g | |
| Hot air cotton热风棉 | 260mm | 60g | |
| Meltblown cloth熔喷布 | 260mm | 50g | — |
| 内层无纺布 Inner non-woven fabric | 260mm | 30g | |
| 鼻线 Nose line dual core | 双芯 5mm Two core | | Thickness 0.5 |
| 耳带 Earband | 5mm 宽扁带 Wide Round Band | | |
4.全自动折叠口罩一体机细节介绍:
1. 本机放料部位:本机放料装置采用了机械张力控制,可以对机器的任何运行数度 都可以保持一致,包括机器的加速,减速,匀速,即使在紧急停机的情况下,他也能保持一致,保证材料在紧急停机的情况下不会产生移位,变形,起皱等现象。
2.本体鼻梁条部位:送鼻梁条装置采用了电机脉冲传动系统,从而实现定位,可控制速度,位置精度非常准确。
3.模具材料:本机磨具和切刀采用了SKD11是高耐磨韧性通用冷作模具钢、是一种有很好强度、耐磨性极为优秀, 韧性及耐热平衡性极好,比传统磨具钢更好,更优秀,近年来随着各向同性产品的开发而日益向高韧性等方面发展,它可以使模具寿命更长,性能更稳定,硬度58-60HRC。
4.超声波:本机采用大功率15K超声波,焊接效果更好,更牢固,超声波焊头采用SKD11高耐磨磨具钢,通过磨具跟超声波焊头表面相互摩擦(每秒几万次的高频振动)而形成分子层之间的熔合。
5.配件钢铝精料:本机所以零配件都采用CNC精密加工,电镀处理提高耐磨,耐热性,导电性,反光性,抗腐蚀性,外观精美,不生锈,更持久耐用。
1. The unwinding position of the machine: the unwinding device of the machine adopts mechanical tension control, which can maintain the consistency of any operation of the machine several times, including the acceleration, deceleration and uniform speed of the machine. Even in the case of emergency shutdown, he It can also be consistent to ensure that the material will not be displaced, deformed, wrinkled, etc. in the case of emergency shutdown.
2. Nose bridge of the body: The nose bridge feeding device adopts a motor pulse transmission system to achieve positioning, control the speed, and the position accuracy is very accurate.
3. Mould material: SKD11 is used for the grinding tool and cutter of this machine. It is a general purpose cold working die steel with high wear resistance and toughness. It is a kind of steel with good strength and excellent wear resistance. The toughness and heat resistance balance are very good. Traditional abrasive steel is better and better. In recent years, with the development of isotropic products, it has increasingly developed into high toughness and other aspects. It can make the die life longer, more stable, and the hardness is 58-60HRC.
4. Ultrasonic: This machine adopts high-power 15K ultrasonic, the welding effect is better and stronger, the ultrasonic welding head adopts SKD11 high wear-resistant abrasive steel, and the surface of the ultrasonic welding head is rubbed with the abrasive tool (tens of thousands of times per second) Frequency vibration) to form fusion between molecular layers.
5. Accessories steel aluminum concentrate: All the parts of this machine are CNC precision processed, and the plating process improves wear resistance, heat resistance, conductivity, reflection, corrosion resistance, beautiful appearance, no rust, more durable.
Dongguan Huitong Automatic Machinery Technology Co., Ltd
Dongguan Huitong Automatic Machinery Technology Co., Ltd. is a professional manufacturer in the ultrasonic application, and textile and nonwoven product machinery industry in Pacific Asia. Our company owns independent research, development and manufacturing capability, which is integrated with sales and production. The products are mainly widely applied for following industries: medical mask, industry and health mask, disposable goods, textile class, non-woven and others. Huitong owns decades' sophisticated manufacturing experiences and can provide non-standard equipment in order to meet specific requirements of clients. Huitong constantly creates broad markets by means of our own enterprise culture: All Rivers Run into the Sea, People-Oriented, Full of Vigor and Vitality, Advanced Research and Development, and Manufacturing Technology, Meticulous After-Sales Service Consciousness. Huitong always focuses on the research and development of new products, meeting customers' requirements at a reasonable cost. We have advanced equipment to cater to the market trends.
Company Name: Dongguan Huitong Automatic Machinery Technology Co., Ltd
Representative: Weibin Chen
Product/Service: Mask Machine , N95 Cup Mask Machine , Medical Face Mask Making Machine , Shoe Cover Machine , Ultrasonic Quilting Machine , Non-woven Machine
Capital (Million US $): US$1 Million - US$2.5 Million
Year Established: 2012
Total Annual Sales Volume (Million US $): US$1 Million - US$2.5 Million
Export Percentage: 1% - 10%
Total Annual Purchase Volume (Million US $): US$1 Million - US$2.5 Million
No. of Production Lines: 10
No. of R&D Staff: 5 -10 People
No. of QC Staff: 61 -70 People
OEM Services Provided: yes
Factory Size (Sq.meters): 1,000-3,000 square meters
Factory Location: 37th Alley Num 2,Xincun Yangjiang Rd.(E),Wangjiang District,Dongguan city
Contact Person: Ms. Emily zhou
Tel: 86-17825043363